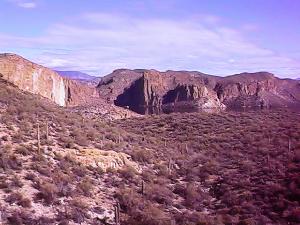 Wintertime Boating in the Salt Creek Lakes Arizona !
Plus other popular lakes around Phoenix
(Music from Duran Duran -Oridinary World)
---
When you think of Phoenix, you think of a relatively dry area. Arizona, however has the highest amount of boat owners per capita than any other state in the U.S. -most being from Phoenix.. Taking that into consideration we headed west again. After doing features on Lake Havasu and Mead over the past two years I am no stranger to the area. I was in for a really pleasant experience this time though. Unlike boating on Lake Mead and Havasu, which are situated in fairly wide areas, I found that trailer boaters heading to the Salt Creek Lakes from Phoenix are not your average "take the boat out and ramp it into the lake boater" but are "white knuckle" haulers of boats through some of the most treacherous terrain that make the Hana Road on Maui Hawaii look like a freeway. The pleasant experience is the scenery.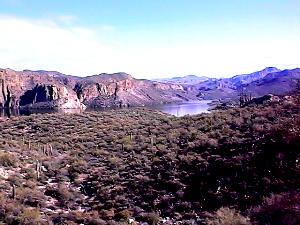 Heading east on 60 and north of 88 just east on Phoenix, I am thinking, this road is easy enough. That was until I was 8 miles past Apache Junction. Suddenly out of nowhere, I was climbing mountains, dealing with hairpin curves, and being distracted by the awesome scenery, that is mountains Arizona style, the color shades of Sedona and a mix of the Grand Canyon along with grays and blacks and Oak Creek Canyon all rolled into one. I am thinking, "I am out to visit three lakes in one day, am I going to make it?". After several miles at speeds less than 20 miles per hour through some of the most scenic parts of the Tonto National Forest, I finally approached lake number 1, Canyon Lake.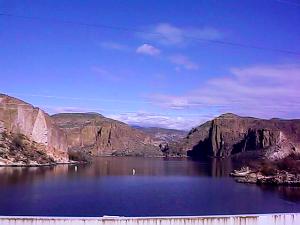 The stunning area coming across the single lane bridge on route 88 (known as the Apache Trail) left me in awe.
Canyon Lake is three of four lakes in the flow on Salt Creek. Saguaro Lake is at the bottom, Apache and the much larger Roosevelt are upstream all with dams requiring trailering. Saguaro is the party lake and fairly easy access from Phoenix. However the major scenery and the need to get to a bit slower pace is just upstream, and the roads to trailer on are the best part of being there, again if you enjoy "white knuckles".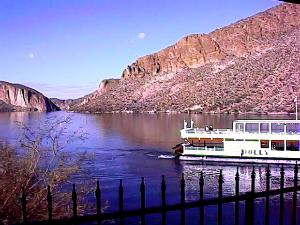 Canyon Lake is 10 miles long with sparkling clear water, where wildlife including big horn sheep, deer and javelina wander the area and petrified logs are embedded into the rock formations. The full service marina includes boat rentals, minor repair, 48 covered slips, 197 open slips, 100 dry storage spaces, electric to each slip fishing licenses, camping and a nearby (Laguna) beach . The Lakeside Restaurant and Cantina features specials daily including an open prime rib sandwich to die for!. If you are not into trailer or renting a boat, the "Dolly", a replica of a steamboat is available for a leisurely tour. On the lake walleye, bass and trout were abundant near "Blue Tank Cove". The lake begins at Mormon Flat dam and widens to nearly a mile wide and runs northeast (upstream) as it narrows between the cliffs to Horse Mesa Dam.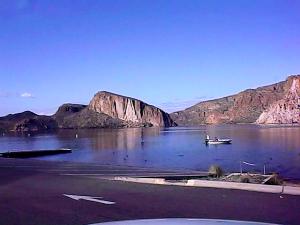 A campsite accessible only by boat is 1/3 of the way upstream at "Beer Can Point", just past "Moonshine Point". Depths in the center reach over 100 feet. Ramps are available at the PaloVerde Recreation area and Laguna Beach just northeast of the marina. Horsepower is unlimited and plenty of picnic sites are on the south side of the lake.
If I had more time I would have spent the entire day there. But now it was time to head deeper into the Tonto National Forest. The Apache Trail suddenly lost its pavement just a few miles and many hairpin curves later. Trailering on this road, taking into account the narrow lane and one half width -steep grade while on a hairpin curve, is almost next to impossible. But again the scenery, Salt Creek is one of the hidden treasures that the
U.S. has almost forgotten. In my mind some of the bends on the road quickly replaced the scenery I thought about while taking on the 540 turns in the 30 miles of the infamous Hana Road on Maui. The Apache Trail blows away the turns in the 22 miles of dirt road that the Hana did in 30 on pavement. Ups and downs, into a canyon, out of a canyon, into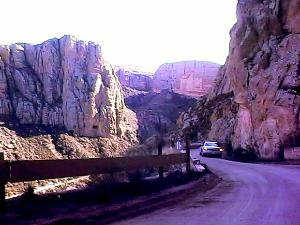 a narrow swath on a hairpin, 9 degree climbs, all to me more challenging then attempting to ride a donkey into the Grand Canyon. The Apache was actually narrower than some parts of the Donkey trail and runs within a few miles and right along on the eastern end over the entire length (coves included) of our next lake, Apache. This area is in the Superstition wilderness, and is being combed over to this day by tourist and hopefuls in search of the lost Dutchmen Gold Mine, (missing for a over a century). When approaching the marina, the scenery is even more stunning than Canyon Lake. Goat Mountain rises proudly to the north with even taller peaks just to the east. This is the lake to visit when you want to get away from it all. With dirt road access, the canyon type appearance and the hospitality of the locals, you can't go wrong taking in a weekend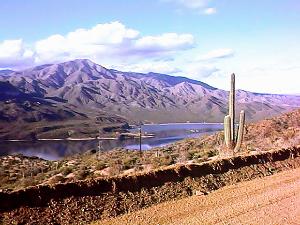 here.
The Marina is about 6 to 8 miles deep in the dirt road portion of the Apache Trail. It includes camping facilities ($20 per day with hook ups for RV and campers), small and pontoon boat rentals (aluminum with 6 - 8 hp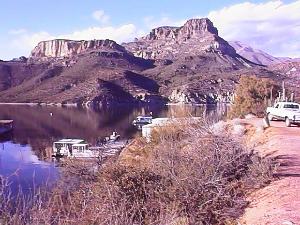 motors at $ 8 per hour with a two hour minimum and pontoons at $ 20 per hour / 2 hour minimum all day and 1/2 day also available), boat storage including wet slips to 35 feet (30 feet and up include facilities) motel accommodations (starting at $ 57 per day, $ 72 per day with kitchen -lower prices during midweek), fuel, restaurant and general store.
Apache Lake is 15 miles long and reaches average depths of 240 feet near Horse Mesa Dam and a shallower average depth of 20 feet as you head in view of Theodore Roosevelt dam. Numerous coves bring along with the beauty great fishing spots, including (from west to east, small mouth bass near Horse Mesa Dam, Hide Out Beach, Cross Point, Saguaro Point, Needles Cove and Black Rock). About half way up stream, you will find the large mouth bass hits, (Verde Point, Gila Bay, Ripple Cove and near the Roosevelt Dam, be sure to cast into the rock ripple areas and weeds during high water for best hits). Trout fishing is also abundant in the deep water of the Pine Cove and main lake area exactly nine miles up stream from Horse Mesa Dam. The best way to trailer to Apache is to come up to Roosevelt Lake first, then take the Apache Trail down from the dam onto the dirt road section and ramp at the first boat ramp at Burnt Corral Campground. From here you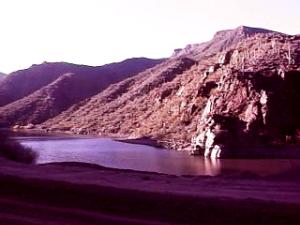 can run to the Apache Lake Marina 3 miles west. By trailering and launching this way you will not avoid all the hairpin curves, but it is the best direct route to keep white knuckles at minimum. Primitive camping is available near Waterdog Cove, also at the nine mile point upstream.
I now resume my trip out of Apache Lake on the trail, but not before taking in the view of the upper most part of the lake near Inspiration Beach. Here you find an uphill view down to the lake during the last two miles of the trail. Roosevelt Lake lies just to the east held by the Massive Roosevelt Dam.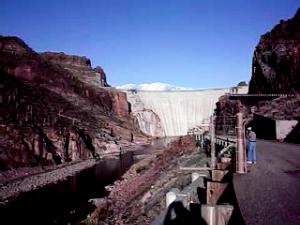 Recently Modified to an additional 77 feet this dam will allow for more recreational opportunities on Roosevelt. It now rises to 357 feet and has the appearance similar to Hoover's. The elevation of the entire reservoir at high water will rise to 2151, with 1,609, 168 acre feet, bringing the acreage from 17,227 to 19,199 or a flood surcharge storage from 87,793 to 1,802,202 acre feet. Four 90" jet flow gates now control flow capacity. The dam produces 36 megawatts of power.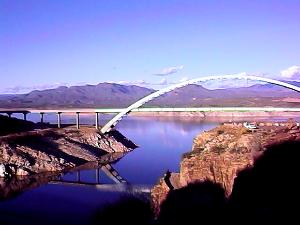 Of course, I didn't find that much water in Roosevelt, in fact it has been too low to launch until the last few months. It has just begun to rise in time to take in winter boating with launching available at the marina. The lake itself during high water will be 25 miles long with 112 miles of shoreline and reach depths up to 349 feet. It is a much wider open area here compared to Apache and Canyon. Yet fishing is world class with bass tournaments, crappie, channel and flathead cat fishing. A visitor information center (open from 7:45 am - 4:30 pm) resides just a mile south of the dam featuring a scenic view, exhibits, bookstore and friendly attendants loaded with information and maps. Plenty of camping is available for every taste from R.V. at the private sites to Primitive at Bermuda Flat, Cholla Bay and Bachelor Cove.
To reach Roosevelt from Phoenix take 60 east to Globe, and follow signs north. Trailering is easy though you will have pass elevations of 4800 feet. Also from Roosevelt you can access Apache, and if you are into looking over high edges with no barriers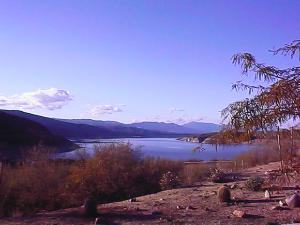 and enjoy trailering on hairpin curves with 9 degree angles, the foundation of white knuckle driving, you can also reach Canyon.
What about other lakes in the area?. Many boaters from Phoenix ideal the visit to Canyon and Apache for the scenery. However Seguaro, Bartlett and Pleasant Hill (northwest side) is easier to access. So I next headed from my sister's apartment in Glendale to take in a few more of these lakes, with first being Pleasant Hill. Pleasant Hill features a state park with plenty of desert style forest and wild donkeys and gray coyotes running about (and I thought deer was a problem in Ohio). Like Theodore Roosevelt Lake this lake was low but trailerable, included background mountain scenery, but what was unique was the way the ramps were designed. One 14 lane ramp covered much of a hillside (due to the tremendous level changes of the water). A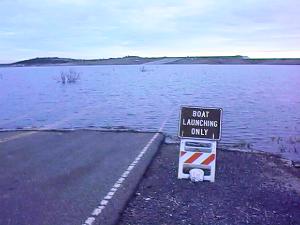 two lane road AKA turned into a ramp at low water also is available. You simply ramp where ever the water level happens to be that day. Full hookup camping including sun shelters to back a RV or camper into for shading along with covered picnic tables were all available. January to me is the best time of year to be here, the fishing is great, watersports could be done with a wet suit, and there were plenty of open camping sites.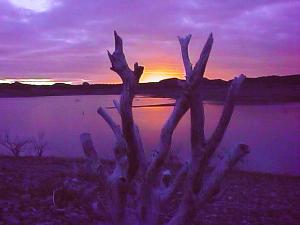 Temperatures were in the 60s at my visit just before a spectacular red Arizona Style Sunset. Pleasant Hill is accessible from Sun City off 99th, go north about 20 minutes and you're at Roosevelt, a private owned marina is available on the east side of the lake, and the park is on the west side. Next I'm off to Bartlett.
Back to the Tonto National Forest, I take the highway northeast out of Scottsdale to one of my favorite communities in Arizona, Carefree. Homes here are surrounded by huge boulders where yards are bits of the desert complete with cactus, boulders and dramatic views of the nearby mountains. I couldn't help but stop by a few open house sites and check out some of the dwellings, a little pricey, but not bad for the area. From the village center in Carefree you can follow the signs to two reservoirs, Horseshoe (which had very low water and a 10 hp limit) and Bartlett. The scenery leaving the higher elevations of Carefree are excellent and after 17 miles of excellent road conditions, fully paved, brought us down to the three mile descent to Bartlett.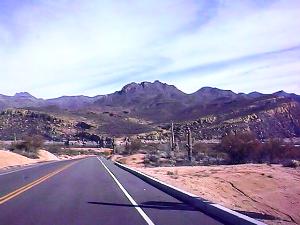 The lake is over ten miles long with 2,815 acres of boatable water and is about as wide as the Ohio River in spots. It was a Saturday and many boaters from Phoenix were taking advantage of the great weather. I pulled into the marina area and spoke with officials about the reservoir. The water was down last year to the point where boating was next to impossible. Then in late 97 the water rose to a respectable level and boaters from Phoenix came out in droves. The marina slips are full this year and a waiting list is available, full and half day pontoon or fishing boat rentals are available. Like the marina at Pleasant Hill and many marinas throughout the country there is a marina membership option. Several ramping areas are also available all around the western side of the lake. Leaving the marina I headed north to one of the popular boating sites that day use campers and trailer boaters use. It is one of the easiest areas I have visited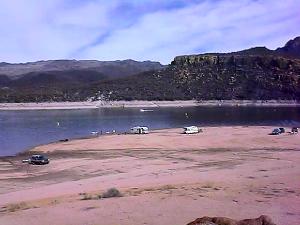 to access shoreline camping in a natural dessert setting with a fully paved road to the Bartlett Flats. In fact you can camp, ramp or boat on over 33 miles of accessible shoreline. The best part is the fishing, including small mouth bass, black crappie, flathead, channel catfish and the lake also holds a 37 pound carp record. Other wildlife include mule deer, bald eagles, javelina and coyotes. If you are trailering without a four wheel drive it is suggested you use the paved ramps available near the marina. The flats are rampable but and as we experienced, you can get stuck such as an RV did just ramping jet skis. The best part about Bartlett was the ease of access from Phoenix and the scenery of the Tonto Forest.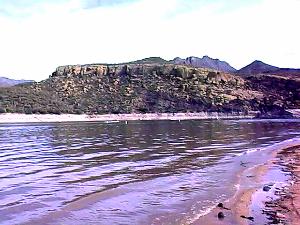 More on the Salt Creek Lakes.
I am sorry to miss Saguaro Lake, but I do have specs for you. The lake is the last in the series stepping down from Theodore, Apache and Canyon. It is nearly nine miles long is accessible off state route 60 and the Bush highway east of Phoenix. It reaches up to a mile wide in spots, is popular for bass and walleye, has several campers coves and a divided reef near the Bagley Flats Campground. A full service Saguaro Marina is just north of the Stewart Mountain Dam.
Overall the trip was excellent. The best time to be boating is any month except July and August (unless you like 100 degree plus heat). The weather is sunny most of the year. All the lakes require a fees of four dollars and are on the honor system. It is two dollars extra for the boat. Apache and Roosevelt charge an additional 6-8 dollars for camping including the shoreline areas.
Heading out to the lakes to take in Winter time boating?, Here is a brief list of features of each lake to make your boating experience pleasurable.
---
Living in or trailering through Phoenix
To get away from the everyday hustle. -Canyon, Apache
To Take in the scenery. -Canyon, Apache
To just go in for a few hours from northwest Phoenix, Glendale / Sun City. -Pleasant Hill.
To just go in for a few hours from northeast Phoenix. -Saguaro, Bartlett
To just go in for a few hours in the Globe area, or visit cliff dwellings. -Roosevelt.
To take an entire weekend with hotel accommodations. -Apache
To shoreline camp in scenic area with a trailer or RV and / or boat. -Bartlett
Best marina facilities including restaurant. -Pleasant Hill, Canyon.
Best fishing stories, -Apache.
Hardest to access -Apache. (easiest access from Roosevelt Lake)
Best marina food. -Canyon Lake Marina Cantina.
Best lake tours.-Canyon Lake on the "Dolly".
Best lake to test your trailering skills. -Apache
Best way to see white knuckles. -Apache (accessed from Canyon Lake).
Happy Boating!
Back to Boating America
---
---
Copyright © Boating America