Trailer Boating for Beginners
---
Purchasing a Boat.
Where to Select and What to Buy.
Used Boats.
Tow Vehicles.
Towing.
First Trip Out.
Safety Courses.
Choosing a Lake to Run On.
Prepping.
Navigation.
Refueling.
Trailering.
Packing Up.
---
So you are thinking about buying a boat?. Never fear, here are a few tips to take into account when taking the plunge.
-
"A boat is like a hole in the water, you pour all your money into it" -Phil Donahue.
"The happiest day for a boater is the day they buy it and the day they sell it" a boater after hitting a tree stump.
---
-
Purchasing a Boat.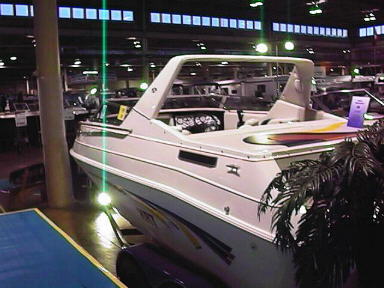 If the itch is getting to you every time you drive by a body of water, then you will be hooked the minute you set foot into a boat. The benefits of owning your own boat out weigh the hassles of making appointments for rentals, getting the timing right with a buddy who owns a boat or having to stay at one lake all the time. First things first though, before you buy your own, go out to your local marina and rent one for a few hours. Rentals can run over $ 30 dollars an hour but it makes a great trainer for the novice. Most marinas will walk you through the steps of pulling in and out of the dock, how to tilt your engine etc.. If you enjoy renting a boat, then you are ready to buy one.
Where to Select, what to buy?.
If you are single, a PWC - Personal Watercraft may be all you need. Commonly called Jet Ski, these units are fun to run and can seat up to three people. Many states are enforcing tough regulations to keep injuries down and safety up. They can be pulled behind virtually any car with a bumper style hitch. If you are buying it for a family and like to trailer to more than one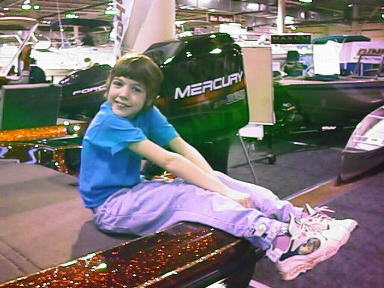 lake, an open bow 18 to 21 foot is ideal. Be sure to bring all the members along! If you like to be on the water all the time, have a large towing vehicle or plan on renting space (slip) at the marina, like to camp out, or have a large family and have the desire to run the Great Lakes, a cuddy 21 to 26 foot is ideal but much more expensive. A cuddy has a small cabin on 21 foot units, just about enough to stretch out in, and the 23' to 26' units have full campers including bathroom, mid berth, mini kitchenette, more storage and make a great second home write off.. If you like to fish there are also plenty of fishing vessels called "bass boats" waiting for the taking. Many bass boats are slimmer and have outboard motors for reaching those shallow areas. Price ranges new run between $ 6000 to $ 9000 for a personal watercraft, $11,000 to $20,000 for open bow and bass boats, and $25,000 to $90,000 for popular cuddy cabin units. If you are into financing the good news is your payments on a typical $ 25,000 boat will run around $250 to $300 per month over 15 years. Cuddy units with bathrooms and kitchens can be claimed as a second home at this time on your tax return at this time. Once you have an idea about what size of boat you want, the next item is where to shop. Be sure to visit Boating America's Links to Great Places for a link to various manufactures.
What about used boats?
What do you look for in a used boat? What are the benefits?. If you plan on buying a used boat, it is best to have a certified mechanic go over it to make sure you are getting the best for your money. Never buy a used boat without taking it on a test run. If no mechanic is available or you are a grease monkey (have a few tools ready to go) then here are a few check points to look for when buying a used one. After running on the lake on an inboard or I/O (inboard outboard engine) inspect the engine compartment for excessive exhaust fumes (where you may need to repair or replace the exhaust manifold), check the oil, tilt oil level, blower motor on I/Os, spark plugs (if possible get the compression specs from a local dealer and do a compression check on each cylinder) and the out-drive oil reservoir (if equipped). Also check around the prop housing (it is best to remove the prop and look for signs of transmission oil leakage). Pull the drive plug, (the plug just below and to the front of the prop on any type marine gear shaft) and drain just a tiny bit of transmission oil, it should be a blue green color, and not a milky color (milky color represents water seepage and could result in a costly repair). While doing this inspect the skeg (blade like shape below the prop) for any excess damage. Also while testing, during the running, make sure the steering wheel turns easily, the throttle control operates normally and that all gauges have proper readings. A stiff wheel or control unit could get into costly repairs later. If the wheel pulls to the left or right at various speeds, this is considered somewhat normal, and simple adjustments can be made on the out-drive itself to correct it. An 18 foot should be able to run about 36-38 mph full throttle with a 17" prop on a four cylinder, or just about 40 with a speed prop (19"). Larger cuddy units may have the same speed even with a larger 8-cylinder engine. A larger engine however on a 18 to 21 foot boat can boost speeds typically up to 50 to 60 MPH. Higher on Magnums etc. Check around the hull for any stress cracks, under hull damage, and pay close attention to the rear of the haul near the engine. If the unit checks out then you will have a good used boat. If you have any questions about any of the manufacturer of a used boat then be sure to visit Rec.Boatsnewsgroup for non biased postings on various manufacturers.
Tow Vehicles
Consult with the manufacture of your vehicle on its towing capacity. A PWC will tow behind most any vehicle with any type of hitch including a Class I or bumper hitch. A small fishing boat, row boat or boats 16' or less can be towed with most any vehicle capable of towing 2000 pounds (such as a Dodge Intrepid) on a Class II hitch. An 18' up would be towed behind a larger vehicle with a Class II or III hitch. Most mini vans and larger full size cars capable of towing 3500 pounds are adequate for short towing runs on an 18' and in many cases up to a 21' boat. On larger boats especially on Cuddys over 21 feet or over 3500 pounds you will need a Class III hitch. This also means a larger towing vehicle such as a Suburban, 1/2 , 3/4 or 1 ton pick up four wheel drive utility or van. When you get into boats that weight more that 3500 pounds loaded with fuel etc. it is important to pay close attention to vehicle detail, such as making sure the gear ratio in the transmission is proper, and you don't exceed the GCWR (Gross Combined Weight Rating or the combined total weight of both tow vehicle and boat), the tongue weight is proper and proper recommendations are being made on trailer brakes. For example if you own a Chevy Suburban and it has a V8 7.4 Vortec Engine, LT245/75R tires and a 4.10:1 transmission ratio, you should be able to tow about a 8000 to 9000 pound boat, or 26 foot plus size. The smaller the boat and weight the tougher terrain you can pull on. There are hundreds of variables. If you plan on a large boat, plan on buying a large towing vehicle, (unless you plan to leave it docked year round). Once again on any size boat purchase check with your manufacture on the towing capacity (specs on towing can be found in most owners manuals). Have a towing package installed (if not equipped) , including hitch, wiring, shocks, and transmission cooler. Always buy a vehicle that is capable of towing more than you are planing on buying, this leaves room for extra luggage etc. and possible upgrades of boats in the future.
I have the rig now, how do I tow?
When you have your rig the first thing to do is practice towing . An empty parking lot is ideal to get the feel of towing. Practice turning to get the feel of the turning ratios, and especially, backing. When backing turn the bottom of the steering wheel the same direction that you want the boat to move. Do not back up faster than walking pace! You may find yourself in a jackknife and inflict damage to both the tow vehicle and trailer. Practice backing into a parking space. If possible back at walking pace around a complete parking lot. One old trick is to imagine the tow vehicle is following the trailer, try to steer as if the tow vehicle is reacting to where the boat is heading, allowing for smooth turning. When you are comfortable with your rig keep in mind that again turing ratios and backing are all together different then driving without a trailer, you don't hug a curve or pull tight into a gas station while towing, you have to drive as if you are driving a school bus as far as turning is concerned. After practicing you will be ready for the towing to the ramps and backing in!.
I am ready for my first trip out what do I need?
Number one now is safety. Make sure your new or used boat have the proper required safety devices. Most states require proper life jackets (see below) one for each passenger (plus a throw able), SOS flag, horn, navigation lighting, fire extinguisher SOS pyro device (three marine flares ideal), bilge pumps and blower for Inboards and I/Os. Other suggestions though not required in most states include; a compass, a marine first aid kit (including sunblock and insect repellent), marine radio (currently have free licensing), GPS for navigation on larger bodies of water, depth sounder, tools, and a quart of oil / gear oil and grease gun. Back to Life jackets. There are several types of life jackets. Type I PFD, or Off-Shore Life Jacket -provides the most buoyancy. It is effective for all waters, especially open, rough or remote waters where rescue may be delayed. It is designed to turn most unconscious wearers in the water to a face-up position. The Type I comes in two sizes. The adult size provides at least 22 pounds buoyancy, the child size provides at least 11 pounds of buoyancy. Type II PFD, Near-Shore Buoyancy Vest, -is intended for calm, inland water where there is a good chance for a quick rescue. This type will turn some unconscious wearers to a face-up position in the water. The turning action is not as pronounced and it will not turn as many persons to a face-up position under the same conditions as the Type I. An Adult size device provides at least 15 1/2 pounds of buoyancy, a medium child provides 11. Infant and small child sizes each provide at least 7 pounds buoyancy. Type III PFD, or Floatation Aid -is good for calm, inland water, or where there is a good chance of a quick rescue. It is designed so wearers can place themselves in a face-up position in the water. The wearer may have to tilt their head back to avoid turning face-down in the water. The Type III has the same minimum buoyancy as a Type II PFD. It comes in many styles, shapes, colors and sizes and is generally the most comfortable type for continuous wear. Float coats, fishing vest, and vests designed with features suitable for various sports activities are examples of this type of PFD. Type IV PFD, or Throw-able Device -is intended for calm, inland water with heavy boat traffic, where help is always present. It is designed to be thrown to a person in the water and grasped and held by the user until rescued. It is not designed to be worn. Type IV devices include buoyant cushions, ring buoys, and horseshoe buoys. Type V PFD, or Special Use Device -is intended for specific activities and may be carried instead of another PFD only if used according to the approval condition on the label. Some Type V devices provide significant hypothermia protection. Varieties include deck suits, work vests, board sailing vests and Hybrid PFDs. Type V Hybrid Inflatable PFD -is the least bulky of all PFD types. It contains a small amount of inherent buoyancy, and an inflatable chamber. Its performance is equal to a Type I, II or III PFD (as noted on the PFD label) when inflated. Hybrid PFDs must be worn when underway to be acceptable. A water skier, is considered on board the vessel and a PFD is required for the purposes of compliance with the PFD carriage requirements. It is advisable and recommended for a skier to wear a PFD designed to withstand the impact of hitting the water at high speed. "Impact Class" marking on the label refers to the PFD strength, not personal protection. Most states require a skier to wear a PFD as well as knee boards and inflatable devices such as tubes or sit-on devices.
Are there any safety courses recommended?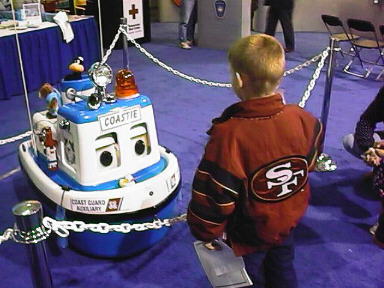 A Boating Safety Course is a must and features not only safety information, but training on the regulations and proper boating procedures when it comes to navigation, understanding buoys (floating markers indicating dangerous shallow spots, dams, swim and ski zones etc.). A Coast Guard approved safety course is available in all 50 states and Provinces in Canada. Check the search engines for a course near you. Though this course is not required by law in most states, it once again is highly advisable and will make your boating trips more pleasant.
Once I have all safety accessories what other accessories do I need?
As for the boat itself bumpers are a great idea to reduce scratches on the gelcoat. Otherwise on a typical outing it is a good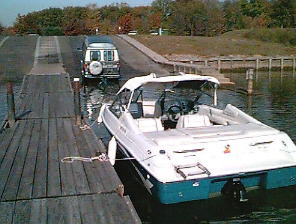 idea to have once again sunblock, any charts you might have obtained on the lake you are running, your fishing rod (plus license), tackle box (and night crawlers), a cooler for of cold non-alcoholic drinks, sandwiches, munchies items, (you will get hungry especially if you are swimming) or something in a thermos bottle (if the weather is cold). Don't forget towels, proper water sports items such as skis, inflatable tubes etc., whatever your family likes to do. If you have small children it is fun to have a whittle ball or frisbee to keep them busy while stopping at the beach. Cameras are also a must for taking a picture of that big one you caught!.
How do I pick a lake to run on.
Before you head out to any lake it is important to make sure it has the proper horsepower restrictions. Many lakes are unlimited, but some are regulated to lower speeds or lower horsepower engines. Check with Boating America's Lakes and River site for a phone number and information on great lakes for outings in 49 of the 50 states. Once you have selected the lake to run on the next process is prepping the boat and ramping.
What are good Prepping / Ramping Procedures?
Fuel up at a gas station on the way to the lake. Once at the lake, and you are in a ramp area, the first thing to do is pull the cover off of your boat, start your blower (on I/O), put in the drain plug, put in any manifold plugs (if you remove them to drain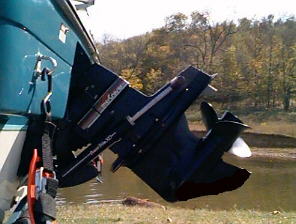 your manifold after running), disconnect your support straps that attaches the stern of the boat to the trailer, and make sure all accessories are on board. After your blower has run for at least 5-minutes clearing any gas fumes out of the engine compartment it is time to back your boat into the water. On average ramps back your boat slowly into the water just to the point that your rear tow vehicle wheels is just outside of the water. Your boat should float off the trailer. If you are trailering by yourself, lock your brakes on the tow vehicle, get in the boat, lower your engine, push your gear release and push your throttle forward and crank the engine running the throttle like a gas pedal in a car. Once the engine is running smooth, release the trailer from the boat by disconnecting the bow cleat and you are off. Back the boat and carefully pull it into a temporary tie up and then park your vehicle. If there are more than one with you and another person has boating experience, there would be no reason to leave your tow vehicle while starting your boat. It also saves time at the ramps. Have one in the boat to start and back while submersing.
I am off ! How do I Navigate?
When you pull out of the ramping area the first thing to note is the buoy markers. Most boaters don't carry charts on the lakes, and none may be available, your markers may be your only guidance. Refer to the Boating America Safety Page for more on Buoy Markers. Stay at a slow "No Wake" speed (where your boat is not making large waves which you normally do while running 14 mph and over, thus it is best to idle in gear). In many states you are responsible for the damage caused by your wake, the buoys are there to inform you it is safe to now create these waves, but please use common courtesy towards other boaters. Once you see a row of buoys indicating a no wake zone and you are on the open water side with no more buoys ahead then you are ready to open throttle. Your boat will lift its nose running through the plane (where your vessel will lift out of the water a few inches while running at higher speeds). If your nose appears to be lifting too much where it bogs down the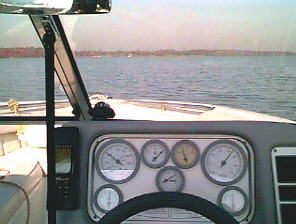 engine lower your trim a few degrees (lower trim will plane faster). Get to know the lake by running around it. Notice other boaters, always keep in eye out. If coming onto a sail boat do not run in front of it, turn behind it as a courtesy, (sailboaters have more trouble maneuvering). If other boaters are water skiing stay well away (states have set guidelines when following a skier, some impose to stay 100 feet to 100 yards in clearance). If you plan on pulling a skier use the counter clockwise rule, (unless otherwise noted), and pull counter clock wise around the lake. It is also a good idea to set your GPS marking points near the ramping area especially if you are on a large lake and may have trouble finding your way back. Also mark any beaches and marina for precious fuel.

Refueling Procedures?
Once fuel is needed and you are at the marina, shut off all power. Put out any cigarettes at this point!. Open your engine cover on I/Os (good time to check the oils). Smell for any excess gas fumes (there will always be some fumes, but should not be any excess where you will notice a strong gas odor). Un-screw your gas cap and touch the gas pump hose against the metal of the gas cap to ground out any static electricity, then pump the fuel in. It is not recommended to "topoff " the tank. Watch your fuel gauge instead for a full reading. (on outboards be sure to check you r oil mixture levels). Rescrew the gas cap, pay the attendant, start your blower, check again for excess smell, lower the engine hatch and you are ready for more boating!. One more note, it is much safer to refuel in a breeze then a calm day, wind will break up gas fumes very quickly.
Trailering
Trailering is the hardest part to boating. Ramp courtesy should be followed during peak ramping times that occur usually on weekends. The most courteous option is to drop off the tow driver at the ramp and wait near by until the trailer is backed down to the ramp. The trailer should be backed so the bow will be completely out of the water when the boat is completely on the trailer. If you have carpet have the driver back the trailer in until about a foot is showing. This helps to align the boat on the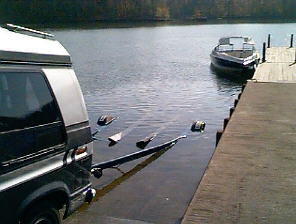 trailer so it will not rest off center once out of the water. If you have a rollers back until the front four are all that's left out of the water. Idle the boat towards the trailer centering on the winch, and once stopped, attach the line and winch the boat up on the last foot or so, shut the engine down, TILT UP THE MOTOR, and you are ready to pull out. If you are alone or do not have a tow vehicle driver, simply tie up at a temporary tie up, back the tow vehicle in (same procedures), go back to the boat and pull onto the trailer, (you may have to leave a little forward engine thrust running in order to get up to the bow and winch up). Shut down, tilt out and hop in the vehicle and pull out.
Packing Up
Once you are in a trailer parking space, the first thing to do is to wipe down the boat with a soft towel to remove water spots and lake film that accumulates on the side of the boat. Its a good idea to do this first since the hull is still wet. It will help keep your craft shiny for years. There are different engine procedures for various manufactures. On many I/Os its a good idea to disconnect the speedometer hose and let the water drain out (which helps clear the line for any debris). On lakes where Zebra Muzzles are a problem it is also a good idea to drain your exhaust manifold once the engine has cooled. Two plugs can be found on Mercruiser In line type manifolds located on the right facing back to the engine just under the manifold. They are made of brass and can be turned easily with a wrench. Water should freely run out, if not you have accumulated sediment and therefore you can use a small screwdriver to push any sediment out of the way to let the water out. It is also good procedure to do this at freezing temperatures to prevent engine damage from freeze up. V6 and V8 engines have exhaust manifolds on both sides, check your maintenance book for this procedure. Other manifolds do not cool with lake water and have there own reservoir, these should not be drained until winterization, again consult with your dealer or owners manual. With the internal engine dry muzzles have more problems developing and usually will not spread unless submerged for a long period of time. Next unscrew the drain plug in the back of the hull just below your engine and let the water out that has acclimated in the bilge. It is also a good idea to periodically check the bilge pump which will also help to drain the water out. Also check your outdrive or gear drive oils, and engine oil on I/Os. Shut down all the electricity (depth sounders etc.) so that your battery will be ready for the next run. You may also want to tidy up more with windex on the windows, vacuum the carpet etc. Next cover your boat. Replace the strap on the rear of the boat and check the winch on the front to make sure it is locked. On trailers with rollers make sure the chain is attached to the winch. Last but not least check your lights and your bearings, or Bearing Buddies to make sure there is grease tension. If necessary inject one or two pumps of grease into the bearings with a grease gun, (but not too much so that the bearing buddies will push out all the way, they should only pop up just a little or you will find grease all over your trailer wheels after towing). Next, the trip home.
Storage. It is a must to keep your boat covered when ever its not in use. A mooring cover is offered by your dealer and will protect the entire boat. In most cases, unless storing it in a garage, it is the only protection from the elements. Its also a good idea to trailer with your cover on reducing wind drag and preventing loss of items in the boat. For prolong storage or winter storage refer to winterizing in your manuals or the Boating Tips and Parts Page on this site if no suck manuals are available. Also cover any exhaust ports in the outdrive or engine areas so small animals don't nest in or around your engine. Boating America will have more information on winter storage in the fall.
---
Have a Great 05 Boating!
Copywrite 2005 Boating America