---
A Trailer Boating Trip to
LAKE CUMBERLAND, KY.
By Mark Cameron
Note: Summer 2007: the water level of the entire lake was lowered for Dam repair. Call ahead to your marina for updates.
---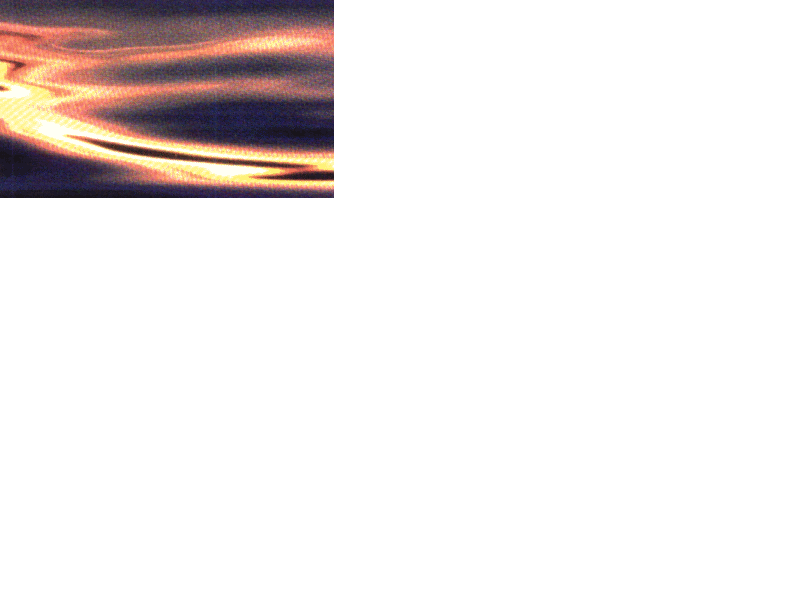 Lake Cumberland. If you are from the Midwest you must have heard of it. Its not your everyday wide open round bed of water. Its an exploration. A place to perform any kind of water sport both popular and something you can dream up. Its a legend, its a place where Catfish Hunter (Grumpier Old Men ), is just average size. It also has legends. Legendary fun!. Fish have been caught where one would practically fill a 5 cubic foot freezer. More recently a fisherman was bitten by a cottonmouth snake, that was nestled in the mouth of a cat fish that he had just caught, yes the fish are that big. Of course a legend, but it made national news.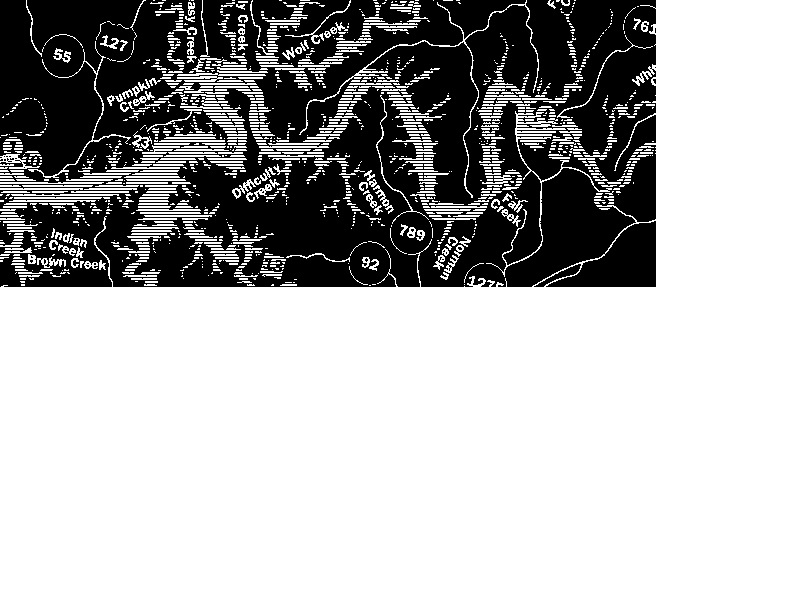 I always thought of Lake Cumberland as just a place to rent a houseboat. But as I visited boating and vacation travel shows I began to gain a respect for a lake I haven't even visited. This summer I made two trips, and am planning another. Yes the houseboats are there and add to the fun, actually a must!. You can also enjoy the lake on anything else that floats, jet ski to an 84 X 16 $ 500,000 two story houseboat with a jet ski ramp on the back. Once you decide what to float on, get ready to explore not an average lake, but the largest impounded lake east of the Mississippi, not an average 20 miles of shore line, but 1255 miles of shore line, not 30 feet, but average depths of 90 feet and spots where your depth sounder won't even detect. Cross wakes? Not a problem, just pull into your own cove. Steep ledges allow the largest of boats to pull right up and tie down for the night with minimal effort. Chain of Lakes or what some of my fellow and fellowett boaters call lake hopping is fun, but at Lake Cumberland you are creek hopping, from Gross Creek and 76 Falls to some 55 water miles to Porter Creek near the Cumberland Parkway, Burnside to Grider Hill, this lake offers so much to explore you can't possibly take it in a single trip, or for that matter, weeks and weeks of trips. The water is crystal clear blue green and dive able. The land rises around the lake in large hills as the foothills of the Smokies lie just to the south.
Even if you don't consider yourself to be an outdoors person, or your mate isn't, there are numerous resorts that give you all the comforts of home right on or in view of the water. I only saw pictures of the Jamestown Resort and Marina, and found the elegant hideaway just 4 miles down the hill from Jamestown, Kentucky. As I trailered my boat down I found a boaters parking lot. Most resorts have large lots just uphill from the lake. I pulled into the lot, prepped the boat, and headed down to the ramps on a back road that started at the end of the lot. The ramps were steep, but manageable, and once the boat was tied I headed back to the lot and dropped the trailer (I wasn't used to disconnecting the empty trailer, but its a must so that you can move your car or truck around the resort with comfort). If you are house boating you can put most of your items in your boat or have one of the attendants help you with your luggage. Since my trip was short I opted for the hotel just up a small hill and less than 25 yards from the heart of the marina.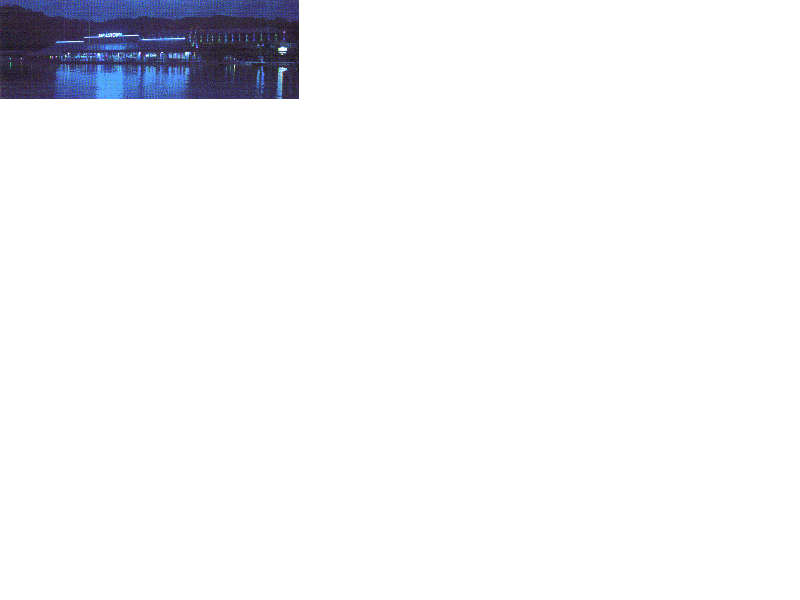 The two room suites feature ceiling fans and balconies overlooking the marina, and microwave and refrigerator. Great place to work on the web! I also rented a slip for my 18 footer and could keep an eye on it from the room. Jamestown like many marinas on Lake Cumberland have experienced growth over the years and is one of the largest marinas (along with Conley Bottom) on the lake. Slip rentals are available along with electric hookup all through-out the marina, and a unique water taxi shuttle is also available free to the public saving long walks from point to point. A grocery and supply store along with a restaurant and even a paddle wheeler are all featured, and the kids took to what they named the "turtle slip" where nearly 20 turtles, huge cat fish and mallard ducks entertained in a roped off slip just for feeding the animals. My daughter even hand fed a bluegill. Up the hill include a Tennis Court, Swimming Pool, and fishing cabins. Directly across the lake at the entrance to Greasy and Pumpkin creeks is the State Dock, part of the Lake Cumberland State Park.
I made a what I thought would be a quick visit by car to the State Park, which is actually about 20 miles my car, and found I could have been there by boat in under 30 seconds or 300 yards from the tip of Jamestown. Stick by boat when visiting spots, its a lot closer. The main lodge was under construction but there are 55 rooms and a nice indoor swimming pool with Jacuzzi, along with a nine hole golf course outdoors and a chance to get close up to a raccoon and even a red fox. I lost count of the deer during the 6 mile drive from the main entrance to the park. The cabins deep in the woods are very modern, the appearance of small houses, and great for the better half, (even if they don't dig the outdoors!). Enough of the resort visits, lets get onto the lake!.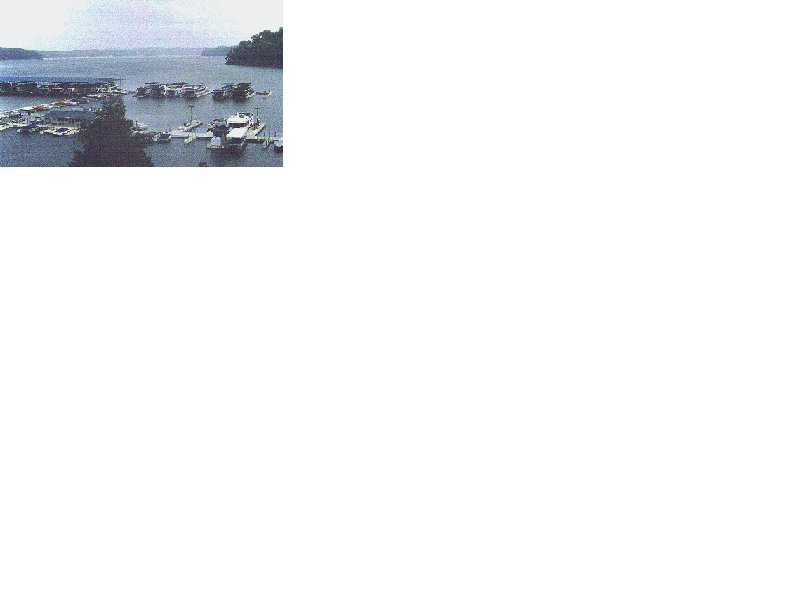 I idled around Jamestown and headed out to the main heart of the lake 10 miles up stream from the dam. My kids couldn't wait so we blew up the pull along bandit and my 7 year old relaxed behind the boat as we made the 15 mile per hour run out to see the lake. Lake Cumberland has a large wide running area that widens near the state park area and runs about 2 miles wide from that point to 10 miles southwest to the dam. Its great for all water sports activity and surprisingly there seem to be few wakes coming from many other boats in the area. As you head south you will find entrances to numerous coves, more than I could count, one would lead to another, than another. Some coves featured their own little mountain splitting one cove into two. If a cove had someone swimming or hanging out on the houseboat, you could easily find another in minutes. Proper markers are placed in what few shallow spots there are so scraping bottom was not a problem anywhere. Of course the water was high too. After running around the park area we noticed the entrance to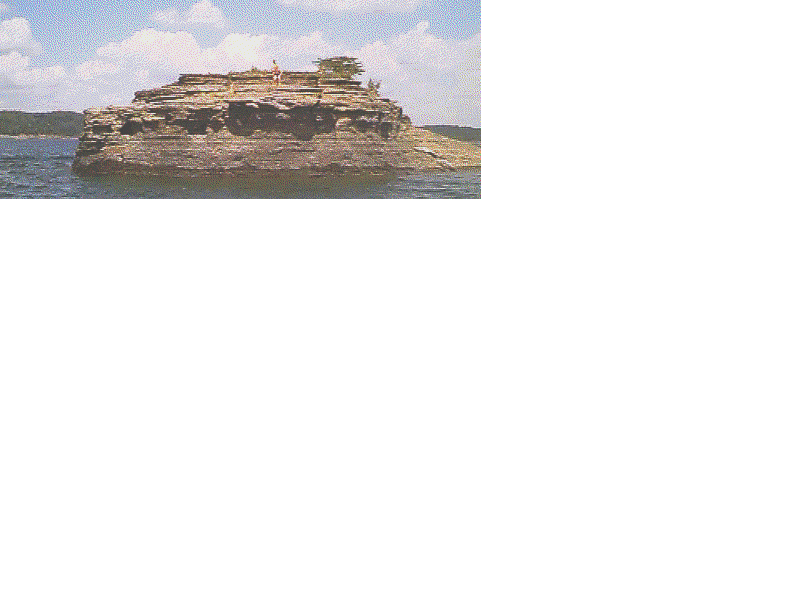 Beaver Creek, which leads about 10 minutes down to the Beaver Creek Resort and the State Boys Camp, (at the split off of Otter and Beaver). Both of these creeks feature their own coves, what seemed like hundreds, and the main creek area was wide enough to entertain several water skiers, fisherman and woman, and what few jet skis we saw. The tip of Beaver Creek swings southeast to Monticello. When approaching nearly any creek on the heart of the lake there are marked signs allowing you to figure out where you are. Take a map and even a GPS for the ease of Navigation. After swinging by the split on the way out we stopped at one of the shoals that stick several feet out of the water where the kids could do a little climbing. Water depth around the edges drop from 1-2 feet in most coves to a quick 10-15 feet, and 80-90 feet just 20-30 yards off shore. A life jacket is a must if you are swimming. My seven and ten year old whom live for the water didn't mind the depth a bit.
Next we headed down towards the dam to Indian Creek. It breaks off like Beaver Creek and again features an abundance of coves. Some of the house boaters from Grider Hill say they never leave the Indian Creek Area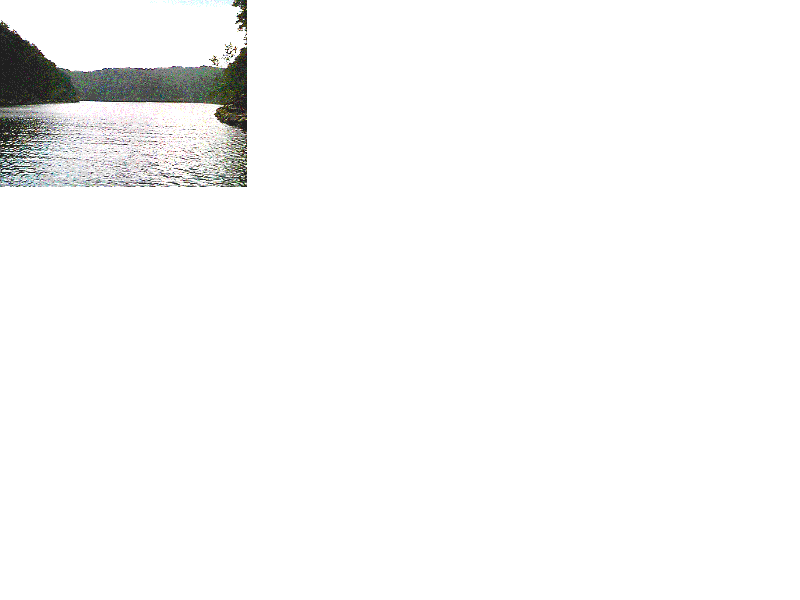 because of its mass size. This is the part of the lake where Some of the hills reach their highest making it one of the most scenic areas in all of Kentucky. Fall boating here would be spectacular. Just four miles down from Grider Hill, we headed down to 76 Falls. Although there appeared to be pumps helping the falls a little bit, there were several other boaters in this area to enjoy the relaxing sound of water falling from a 60 foot drop. A boat load of young woman from Michigan pulled in beside us while the kids were swimming. One I spoke with said she was daring herself to go to the top of the falls and make a dive. Three of her girlfriends cheered her on as she climbed up to the top (a rope and path are located just to the right of the falls allowing you to walk across the top of the falls). Once on top she came close twice and stopped, and then made the dive into the 28 feet of water without a problem.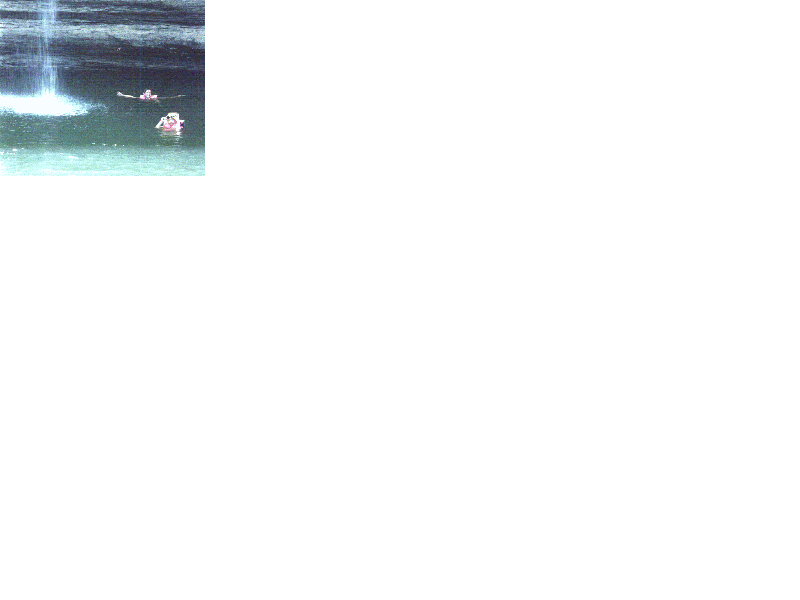 Me, I would not have done it, but then I wasn't 18 and on the high school diving team either. Some boats also idled right into the falls for a little cooling off, (and the chance to check out their bilge pumps!).
There are other falls associated with the Lake Cumberland area including Yahoo falls on south fork creek, navigable by small craft or canoe, and the famous Cumberland Falls State Park about 30 miles southeast of Burnside away from the lake area. Cumberland Falls is known to be the 2nd largest waterfall in the eastern U.S. and during a full moon you will see a moon bow, one of only two in the world. Inflatable craft are available at the park allowing you to get right into the falls.
Day two at the Lake had us up early to watch the sunrise as we chowed on breakfast at Jamestown. Out to the boat we headed over to the houseboat docking area where we ran into Larry Rader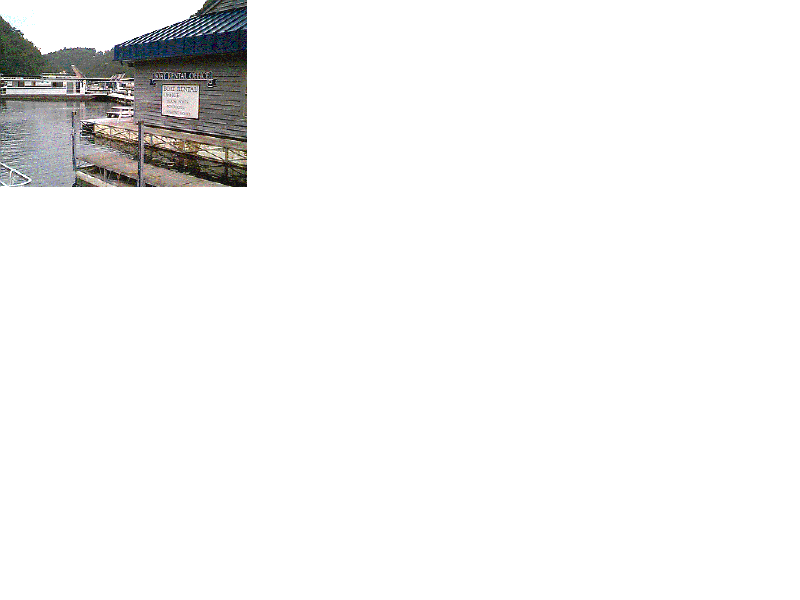 who is employed by Jamestown, and enjoyed a short tour of the three types of houseboats they rent. The least expensive (about $ 700 for four nights) featured a large cooler on board, room to sleep 6 including bunks, a bathroom and kitchen. The lighting was on propane and there was no air conditioning. In fall or spring weather these boats are nice for fishing off of, relaxing, or just taking in a game of cards. Near the controls (at the helm) was a map of the lake so you wouldn't get lost. Next we toured the popular 64 foot houseboat that featured a generator and more of the amenities of home including two roof A/Cs, a full size refrigerator, microwave, video cassette player and 19" color tv. There was a master bedroom with access to the bathroom and shower and upper and lower loft with double beds and hideaway in the living room, sleeping a total of 8-10. I would recommend no more than two families. There was access to an upstairs area, great for pitching a tent, and featured a slide off the back. The boat holds close to 200 gallons of fuel and depending on how much you travel, you may need to fill up once in four days, (on little to moderate running) or maybe twice in four days (for heavy running). Gas in August was $ 1.83 a gallon. The generator would burn about 100 gallons or a gallon an hour in four days. Expect to spend about 1000 for four nights, 400 in fuel and 200 in food and drinks, making a four night five day run about 1700 dollars figuring taxes, based on little operation but full time generator. Divide this by two families and you have about 850 a family. Inexpensive for a five day outing. Divide this by four if you have four all splitting the expenses and you have about a small $ 425 investment. Of course figure in a little for your own watercraft should you bring one, (highly recommended). There are even larger more luxurious craft to rent getting into the $ 2000 range (plus fuel) available. These would be appropriate for 10-12 people or three to even four small families, and some rentals in the area include whirlpools on the top deck. All the houseboats were paneled, look pretty much like a cabin inside, and were comfortable. On the front of all boats was a large open deck for eating, playing cards or fishing. It is recommend to bring your own towels and linens or at least sleeping bags, change of clothes for five days, trash bags, bottled water, plenty of ice if you are fishing, first aid kit, insect repellent (though they were not a problem), water toys for children of all ages and video tapes. Of course depending where you rent a houseboat from, the rental companies will provide you with a complete list.
Families I spoke with love houseboating and many make reservations for next year after returning from a week out. They recommend bring bottled water on board do to the canny taste of storage tanks on the boat. The only problem indicated was running out of water especially if everyone enjoys long showers. Jamestown and several marinas offer free pumping stations to accommodate this for their rentals.
After exploring houseboat rentals, and thank you to the staff of Jamestown for all the hospitality, I headed out to the eastern end of the lake with a run up Wolf Creek (which breaks off just past the marked entrance to McFarland Creek) just minutes from Jamestown and towards docks Alligator 1 and 2. Though there are not as many coves on this creek but plenty of ample room which still makes it a popular spot for scenery and fishing. The kids and I took in a little swimming and water frisbee. Water-skiing in these creeks is still possible but be cautious in the narrow spots. Then back out to the main lake and we head east again towards Conley Bottom, passing by camp Earl Wallace, a 4H camp and yet still more creeks and coves, some still big enough to water-ski. Just north of Conley Bottom is Cumberland Point, a break off point to Faubush Creek and Lake Cumberland itself. Conley Bottom is also one of the largest marinas on the lake which features restaurants camping both RV and primitive as well as houseboat rentals. If you are renting a houseboat downstream Conley Bottom is a must stop for refueling when running low. Then its off to Burnside State Park on the eastern end on the wider points of the lake 13 miles up from Cumberland Point. The coves are fewer here and fewer cliffs, but still very scenic with hills towering on both sides at various points. About 5 miles before you reach Burnside you will pass Fishing Creek and the 7 mile trek to Lee's Ford Marina and Pulaski County State Park. You can even boat all the way up to and slightly past the Cumberland Parkway. Burnside on the other hand is just south of Somerset and features a State Park smaller than Lake Cumberland State Park but includes free launch ramps. At this point Lake Cumberland turns into the Cumberland River and is still navigable another 20 plus miles to London boat dock and the Sawyer Game Refuge and Wilderness Area (its another 15-20 water miles to Cumberland Falls but too shallow in many spots for typical craft), and the Southfork to Woodson Bend Resort. Watch for shallow spots in these areas.
After the one hour trek back to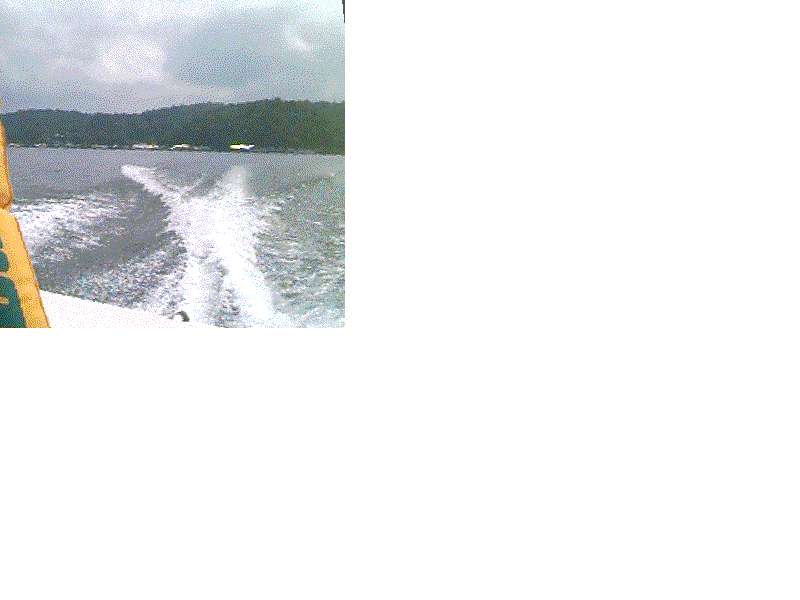 Jamestown from Burnside the day was about over. Like all reservoirs the farther downstream we got the deeper the water gets. Most of Lake Cumberland never freezes over making a year round fishing spot. If you need a get away, like to fish, explore, take on any kind of watersports, or just enjoy the outdoors, then Lake Cumberland is the spot!. Houseboating is the best way to stay, but you can enjoy the lake just as much by waterfront hotel accommodations available at most marinas, R.V. Primitive Camping, and cabins. There are several nearby golf courses, horseback riding and historical Civil War battle fields.
Shopping for supplies before you settle on the lake are available in Somerset (featuring a 50 store mall), including Walmart and Kroger, and also the place to fuel up the boats with gas prices similar to Cincinnati, (you will pay $ .50 more per gallon at the marinas). Smaller shopping facilities are available at Russell Springs near the State Dock, Jamestown and the Alligator Marinas (McDonalds and Taco Bell are here too!), and facilities are also located in Monticello near Conley Bottom and Beaver Creek on the south side of the lake. Laundry facilities are available at Kendall, Cumberland Point, Fishing Creek, Waitsboro, State Dock, Alligator 2, Burnside and London. Vessel pump outs are at State Dock, Jamestown, Alligator 1,2 and Conley Bottom. All Marinas have country stores, fishing licenses, fuel, water launching ramps, restrooms, restaurants (except London) and rentals. Best pizza (daughters input) the little pizza restaurant (forget the name) just west of the square in Jamestown you will pass while on root to Lake Cumberland State Park featuring pictures of historical cars all over its walls.
There are two other lakes nearby, Dale Hollow which runs into Tennessee, and Green River the smallest to the northwest. Houseboating is available at slightly lower rates on these lakes and a new state park facility is featured on Dale Hollow on the Kentucky side. Dale Hollow is the oldest of the three, then Cumberland which construction began in 1948, and more recently Green River. I highly recommend Dale Hollow as an alternative to Lake Cumberland, or at least worth a day. Its a little smaller but there are many more islands and just as good fishing as Cumberland. So if you're looking for a lake and would like to do a little exploration, fishing or enjoy endless room for water sports then Lake Cumberland, and at a stop at Dale Hollow is just what you need!. For more information call 1-800-OH-BOATS
---
---
Copyright BoatingAmerica
All Rights Reserved