Feature Special
San Diego Bay
By Mark Cameron (Summer 98')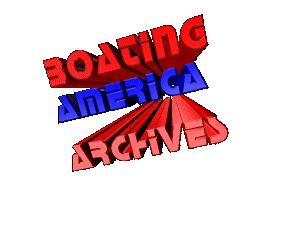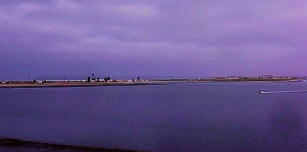 ---
The kids and I were at it again this year, another boating run to an inland lake. But this time do to the request of my 11 year old daughter, and her expressed interest of the San Diego Zoo ( a must see along with the animal park ) we headed west via MD80 (TWAs replacement of the 727) to check out boating on San Diego Bay. Flying makes it tough to trailer boat but do to time constraints we had no choice. We would simply rent. The first thing you will notice when crossing over the mountains between the desert and ocean (or in our case stepping off the plane), is the air conditioning outdoors. In June during our visit it was only in the lower 70s. Native boaters of San Diego Bay have come accustomed to the cool weather 10 months out of the year. What makes the bay so interesting is that you will find jet skis riding along with the ranks of Air Craft Carriers ( it doesn't get more extreme than that ), along with paddle boats, pleasure boats, yachts, and simple pleasure craft (also stopping to take a leisurely dive). The bay starts at the entrance near downtown bordered by North Island NAS Hasley Field and the lighthouse which leads north up Catalina Blvd. to Old Mission / Ocean Beach area. While passing into the bay one would notice San

Diego Bay Pier and Yacht Harbor on the left and eventually passing Lindbergh Airport past downtown, (where the goodwill games were in progress) and then under the famous Bay Bridge and into the hear of the bay itself. Several pleasure boaters were running about during our visit and its amazing to compare the size of a typical 21 - 28 foot boat to a huge aircraft carrier. Several military ships were docked on both sides while going south. On the western side lies Coronado, a quiet conservative community with several shops and restaurants. If you were to drive across the Bay Bridge you would drive right into Coronado. To the north lies hasley Field and the south lies Glorietta Bay and Coronado Amphibious Base. Glorietta Bay has marinas which offers slips and overall make it a great spot for trailer boating. Farther south on Silver Strand Blvd. lies a rather interesting housing community which includes the Lowes Resort Hotel.
The resort itself offers gated security and three outdoor pools and two whirlpools, slips, boat rentals, jet ski rentals, and easy access to an old fashion California style beach bon fire. There we ran into a family who lives on a 34 foot cabin boat. Slips start around 12 dollars a foot per month and go from there. Many slips include all the hook ups for year round living. The benefits that suprized me was lower taxes and lower costs of living (on a boat!). I asked both of the teenage kids (I will keep names anonymous) how they liked living on a boat, and they both loved it. However do to having to tie things down like the computer, dishes etc. they rarely take the boat out. With the weather as cool as it is (comfortable most of the year round) there is no need for air conditioning,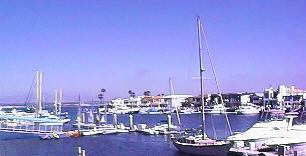 (I even ran the heat in my hotel room at Lowes). Just on the other side of the inlet to the bay are homes starting around 2.5 million. At those prices one would consider living on a boat too especially if you want to be close to the water. You wouldn't even feel an earthquake. The bay runs another 2 1/2 miles south where it ends near Imperial Beach. Benefits to boating in the San Diego area include taking breath taking views of the city, the military carriers, the weather and the life style. Farther north lies another smaller inlet but great boating area Bonita Bay. With an entrance channel to the Pacific you can go into the bay into Mission Bay and run northeast to De Anza Cove. This area is popular the much smaller watercraft and is home to Sea World. Other great places to visit in Southern California while running on your next boating trip include, Tijuana, (home to the best bartering in Mexico), Knots Berry Farm and Disneyland in Orange County (one hour north) and The Salton Sea north of El Centro (about three hours east -see below) and Laguna Salada (a salt water lake housing many species of birds across the border south of El Centro). If you happen to be in the mood for great boating, great weather, a little diving, theme attactions and the California atmosphere, then boating in San Diego Bay is a must!.

---
Where to Trailer - Most Marinas offer ramps, Coronado is suggested as one good spot.
Where to Lodge - For night life, LaJolla, Mission Beach, Coronado for quiet atmosphere.
On a food Budget - Imperial Beach offers nearby fast food and Taco stands for Coronado
Best Time of Year - Anytime, the weather is great year round!.
---
Back to Boating America